Divya Rabindra@NFC, Divya.r@news4children.com
Happy Valentine's Day!
Yes! It's that day of the year where we can show our appreciation, care, love, and affection towards our loved ones in many different ways. Need not be materials, just some quality time taking a stroll, trying to find anything heart shaped is a fun activity in itself to make it special.
A bit of background to this celebration – One of the many legendary story goes like St. Valentine, a Roman priest was martyred for his faith on the 14th of February.
Back to baking now. Kids are fond of anything heart, red and fancy. Oh not to mention the phase where everything they see around them will have  "the mommy, daddy and baby". That's the theme to our valentine day pancakes today. Let's get started.
Chocolate chip heart pancakes with fruit flowers.
Ingredients
1. Eggs – 2
2. Milk – 1.5 cup
3. Butter – 1 Tbsp ( melted)
4. Vanilla essence – 1 tsp ( Optional)
5. Whole wheat flour – 1.5 cup
6. Salt – 1 tsp
7. Baking powder – 1 tsp
8. Sugar – 1 Tbsp
9. Chocolate chips
Directions
1. Mix all the wet ingredients in a bowl.
2. Mix all the dry ingredients except chocolate chips. Pour the wet into dry and fold the ingredients till just mixed. Don't mix thoroughly as this yields flat pancakes.
3. Melt butter on a pan over medium heat. Take a ladle of batter and pour it on the pan. Sprinkle a few or more chocolate chips and nudge the chips with a spatula so that they sink into the batter. (Feel free to use blueberries instead of chocolate chips)
5. Once you see a few bubbles on the pancake, it's time to flip the pancakes. Cook the other side till light brown.
6. Cut out the pancakes with heart shape cookie cutters, arrange the strawberries and blueberries to resemble a flower with a stem. Drizzle maple syrup or honey and enjoy!
IF YOU WANT TO GO THAT EXTRA MILE!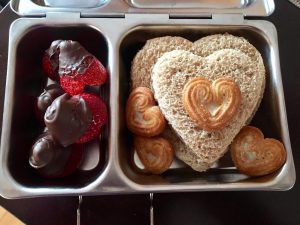 * If you have a kid going to school then you can make their snack box fancy and special. This can be done in less than 10 minutes. Peanut butter and jelly sandwich cut into hearts. Melt chocolate chips in the microwave, dip the washed and dried strawberries. The chocolate dries up in 10 minutes uncovered. Lastly, throw in some " little hearts cookies". Voila! You will have a very happy kid at snack break 
* You could also do a countdown to Valentine's day by sticking one heart a day on your kid's bedroom door. And writing why and what we love about them in each heart. They will love to read those everyday and wait for new hearts to appear. Here's a pic to give you an idea.
Have a fabulous day my friends!!