Dheeksha.r@news4children.com Dec 31, 2019
From environmental activist to Scientist to Tik-Tok celebrity, children unlike earlier have made use of the tremendous available platforms (internet) to follow their passion and make themselves heard like never before. Here are few personalities who inspired millions and will continue to inspire others.
Greta Thunberg: Greta Thunberg, 16 years old, environmental activist is chosen by Time's Magazine as the "Times Person of the Year". She is the youngest person to be named as the "Times Person of the Year." Born on 03 January 2003 in Sweden, Thunberg championed the cause of climate change.
Ridhima Pandey: 11 year old, Ridhima Pandey was one of the 16 children who filed a legal complaint at the UN to protest the lack of government action against climate change in September this year. The 2013 Kedarnath flood had a huge impact on 6 year old Ridhima. Since then she has been advocating to tackle climate change. Now in 6th grade, she was invited to participate in a conference on climate change in Paris.
Rahaf Mohammed: 19 year old girl was caught byThai authorities on 5 January 2019 while transiting through Bangkok airport, en route from Kuwait to Australia. She intended to escape from her family in Saudi. She claimed that her family abused and threatened to kill her for amongst other reasons leaving Islam. Leaving Islam is a capital offence according to Saudi law.
She appealed in Social media and garnered significant attention worldwide. She was taken under the protection of the United Nations High Commissioner for Refugees and granted refugee status. On 11 January, she was granted asylum in Canada and arrived in Toronto the next day.
Muhammad Najem: 16 year old, known as 'Little Journalist', started to tell the horrifying story of chemical-weapons attack on Syria in 2013. He is from a village 'Arbin' in Syria. His father was a victim of attack in 2015. In 2017 he began documenting the horrifying impact of attack by Assad regime in the Eastern Ghouta and posted in Youtube. Najem now lives in Turkey and continues to post videos. For more on Najem read Columbia Journalism Review.
Malala Yousafzai: Nobel peace prize laureate has been named as the most famous teenager of the decade by United Nations. She has been working for children rights and championed the goal of education for the girl child. 
Rishab Jain: 14 year old is named America's Top Young Scientist for creating a tool to harness AI (artificial Intelligence) to improve radiotherapy  for pancreatic cancer patients. Since 2019, he has attended Westview High School (Portland, Oregon).
In November 2019, Rishab Jain was awarded Vincitore Assoluto (Absolute Winner) by the Giuseppe Sciacca Foundation in Vatican City. The award was presented by His Eminence, Cardinal Raymond Leo Burke, at Pontifical Urban University.
Marley Dias: 14 year old, became famous with the launch of the campaign #1000blackgirlbooks. American activist and feminist, when she was at the age of 11, she complained to her mother that she was "sick of reading about white boys and dogs." She started the campaign #1000BlackGirlBooks, bringing more attention to books featuring black women as the main character. Her campaign became world famous and has now written and published her own book, Marley Dias Gets It Done: And So Can You!.
She has recommended some books for younger readers:
The Story of Ruby Bridges
No Mirrors in My Nana's House
Dear America
Chains by Laurie Halse Anderson
Brown Girl Dreaming by Jacqueline Woodson
Roll of Thunder, Hear My Cry by Mildred D. Taylor (wikipedia)
Loren Gray Beech: 18 year old Gray joined musical.ly (now known as Tik Tok) when she was 13 year old. She gained large following on musical.ly in 6th grade. As on August 2019, she has more than 36.5 million TikTok followers, making her the most followed account on TikTok, over 18 million Instagram followers, and 3.6 million YouTube subscribers as of August 2019. She is a singer and social media personality.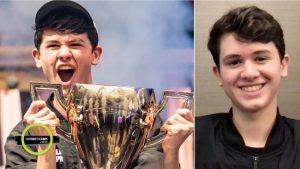 Kyle Giersdorf: 16 year old, known as 'Bugha' in the e-sports world, won $3 million after winning the Fortnite World Cup final, beating 40 million players in online video game.
He was named Esports PC Player of the Year as well as Esports PC Rookie Player of the Year at the 2019 Esports Awards in November. He also won Best Esports Player at the 2019 Game Awards.
Giersdorf has nearly 600,000 followers on Twitter, 1.3 million followers on Twitch, and 1.5 million followers on YouTube, according to Insider.com.